When I saw Mandala Moments by Tonic Studios I was quite intrigued. I have to say that I have never seen anything like this collection of stamps and dies despite seeing the shop shelves filled with Zen Colouring books that include mandalas designs.
I always thought that colouring images with such amount of detail could be very boring and it wasn't my thing. However, I only needed to stamp the images on a piece of whisper white cardstock and for the very first time I had the opportunity to enjoy and discover the benefits of Zen colouring and on top of that I could make cards with these images … it was a relaxing and enjoyable experience…
Mandala Moments collection includes stamps with bold chunky words and 3 images ( lady bird, dragonfly and a flower) with mandalas patterns all over them and it comes with big, chunky, coordinating dies. Plop! the dies are to die for and I try them with my 3 embossing machines: Cuttlebug, Stampin' Up! big Shot, and Big Shoot Plus, they worked just fine on any of them.
Tonic also sent me the Nuvo Creative Pen Collection (Dual tipped alcohol based markers) and Nuvo Brush Scrip Pens Collection (water based, ultra fine tip pens), and I used the same 3 colours on each collection to add colours to all the cards today.
I also used my sewing machine to apply stitches over the cardstock and create frames for some of my cards.
Ok, so first I want to share a Valentine's Day Card idea.
I can't take the design as my own. I CASE it from Agniezka Malyszek here. I die cut the words out of Whisper White Cardstock By Stampin' Up! then I stamped them over using Memento Black Ink with a floral stamp from Marmalade's World Collection ( Also by Tonic Studios).
I use one of the stamps on Blooming Love stamp set by Stampin' Up! the : XOXO and I stamped it with Memento black Ink.
The card base was made in Sahara Sand cardstock by Stampin' Up!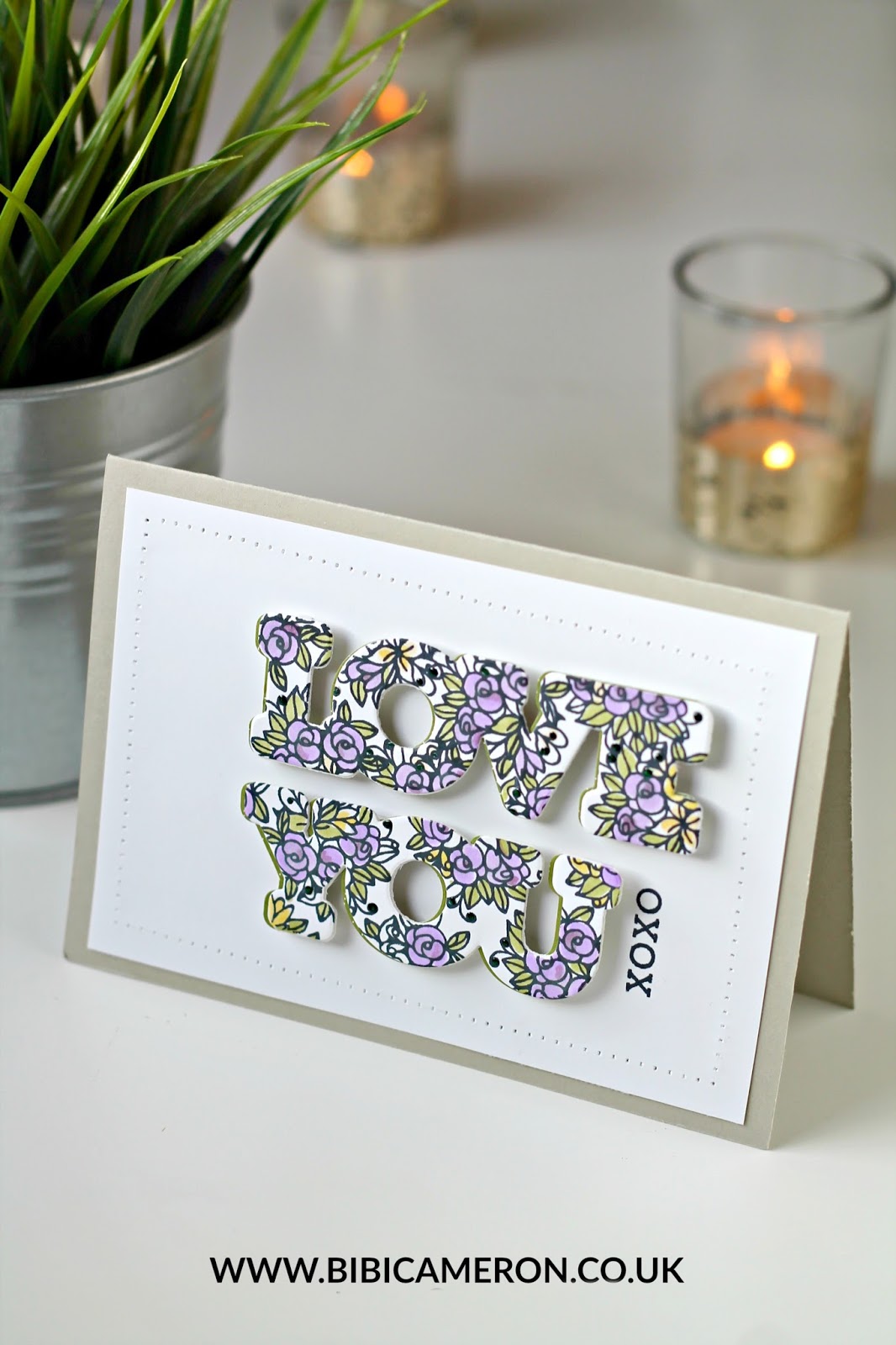 For the card below I use the stamps and the dies and I added colours with Nuvo Markers.
I die cut a C6 whisper white panel and I stamped the words in a square scrap piece of the same cardstock. I added colour and pasted these images well aligned behind the die cut panel with dimensionals.
Below a very simple card made using the dragonfly stamp and die
And here is a very minimalist sample with the lady bird .
I thought these dies are amazing to apply a partial die cutting technique and get those words popping up from the edge of a card.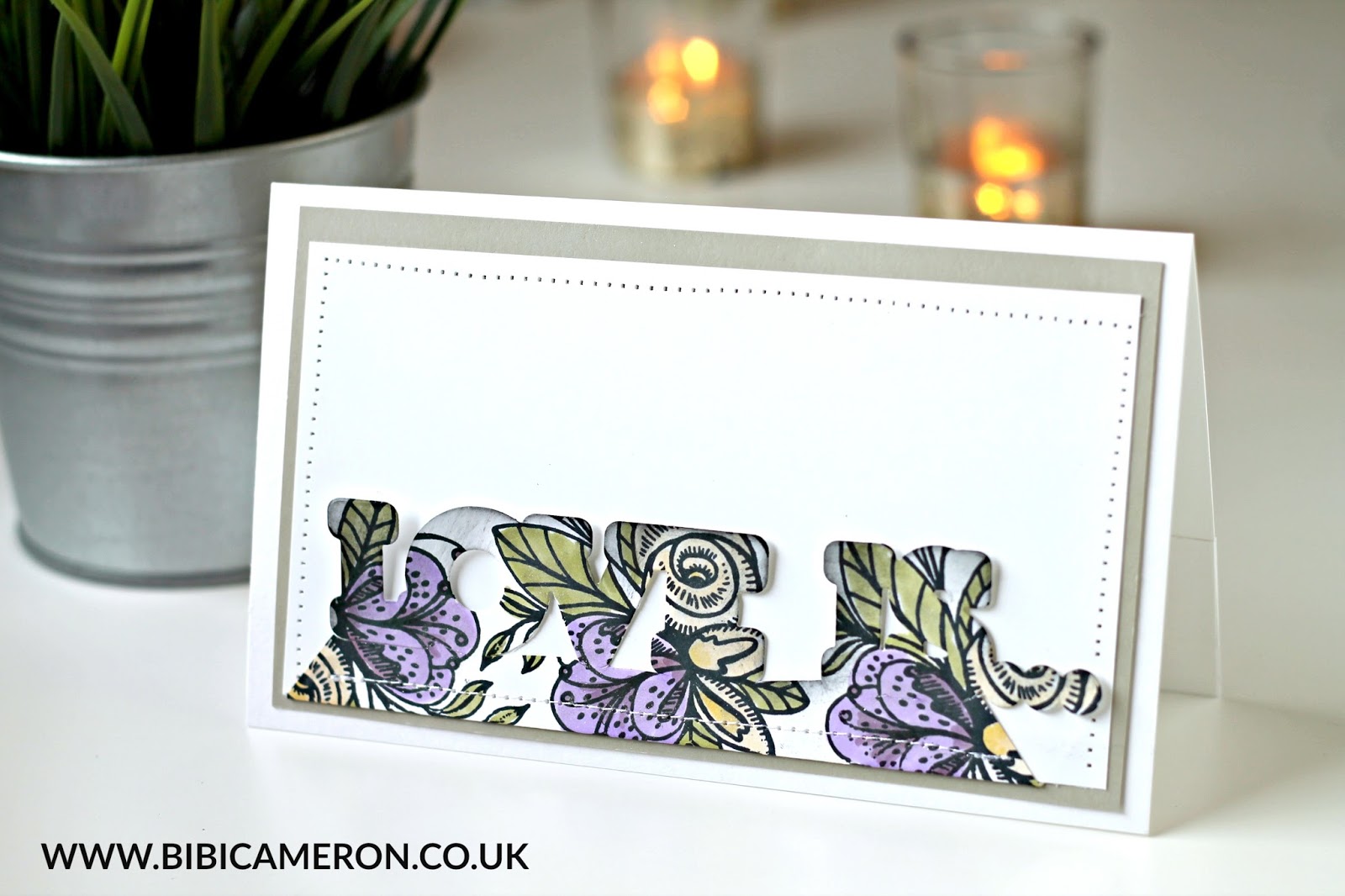 I also thought that these dies will make nice shaker cards, regardless if you use them with the coordinating stamp or if you just use only the dies.
There are endless possibilities to play and make original things with these dies and stamps. the sky is the limit really ( boxes, tags, key rings, bags.. etc etc etc)
The dies measures about 3cm height ( 1-1/8″ ) there are many words in the collection. The word "You" or "For" for example measures about 8 cm width (3″) while the word "hugs" measures 10cm width (4″). the word Love measures about 9.5cm (3-3/4″).
I'm thrilled with all the products I have received from Tonic Studios and to be part of their " unofficial Design Team" a new adventure to share with you in 2017.
That's all!
Thanks for visiting my blog today. I hope you like these projects and you can find in my blog a source of inspiration and ideas for your paper craft projects.
Do not hesitate to ask any questions or leave a comment. I would love to hear from you.
Happy Crafting.
x
Bibi
LET'S KEEP IN TOUCH!
Join my Facebook group | contact me at bibicameron@gmail.com| Subscribe to my YouTube Channel | Follow me on Google+ | Follow me on Pinterest and Instagram | Follow my publications | Subscribe to Newsletter|




Supplies: