Easiest project ever using Pansy Punch by Stampin' Up! for this week Global Design Project Challenge #71
You can add to this project leaves, other colours and make them in any size. For table decorations you can also us smaller flower punches such as Petite Petals by Stampin' Up! , any die and thiner tree branches.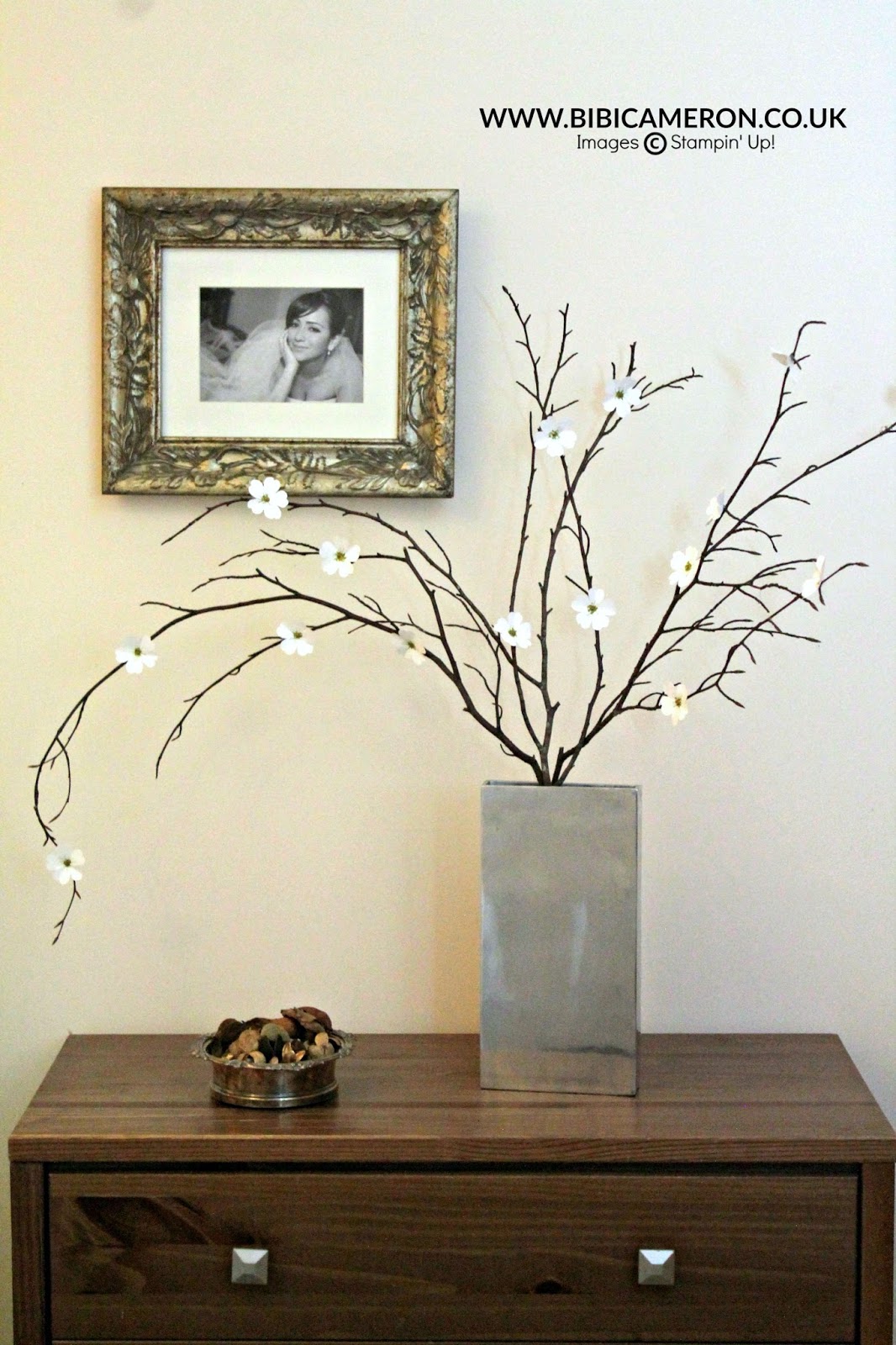 … Or you can also hang them from the wall.
This will make beautiful, inexpensive decorations for canopies at a garden party.
How to make them…
Find some nice and fresh fallen tree branches.
Punch out of Whisper White cardstock some flowers using Pansy Punch by Stampin' Up! or similar. Fold the flowers in half or place them on a foam and give them shape with a round tip stylus.
Add some colour in the center of the flower with a Stampin Write Marker or any similar.
You can also add some glitter at the center of the flours ( I used Glitter Accents – Aztec Gold by Tonic Studios)
Stick the flowers with hot glue to the tree branches.
To keep the branches in place wrap their base with tape, flowers wire, ribbon, twine or anything you have available.
Then apply on the branches some of your favourite essence and you are done
Note:The tree branches search was an adventure for my toddler Emma. There is not need to get the branches from the trees. We all need to avoid getting damage the nature and the ones in the floor are just perfect as they are already dried.

That's all!


Thanks for visiting my blog today. I hope you like this easy project!

Do not hesitate to ask any question or leave a comment. I would love to heard from you.
All supplies listed at the bottom of the post.
Happy Crafting.
x
Bibi
LET'S KEEP IN TOUCH!
Join my Facebook group | contact me at bibicameron@gmail.com| Subscribe to myYouTube Cahnnel | Follow me on Google+ | Follow me on Pinterest and Instagram| Follow my publications | Subscribe to Newsletter|