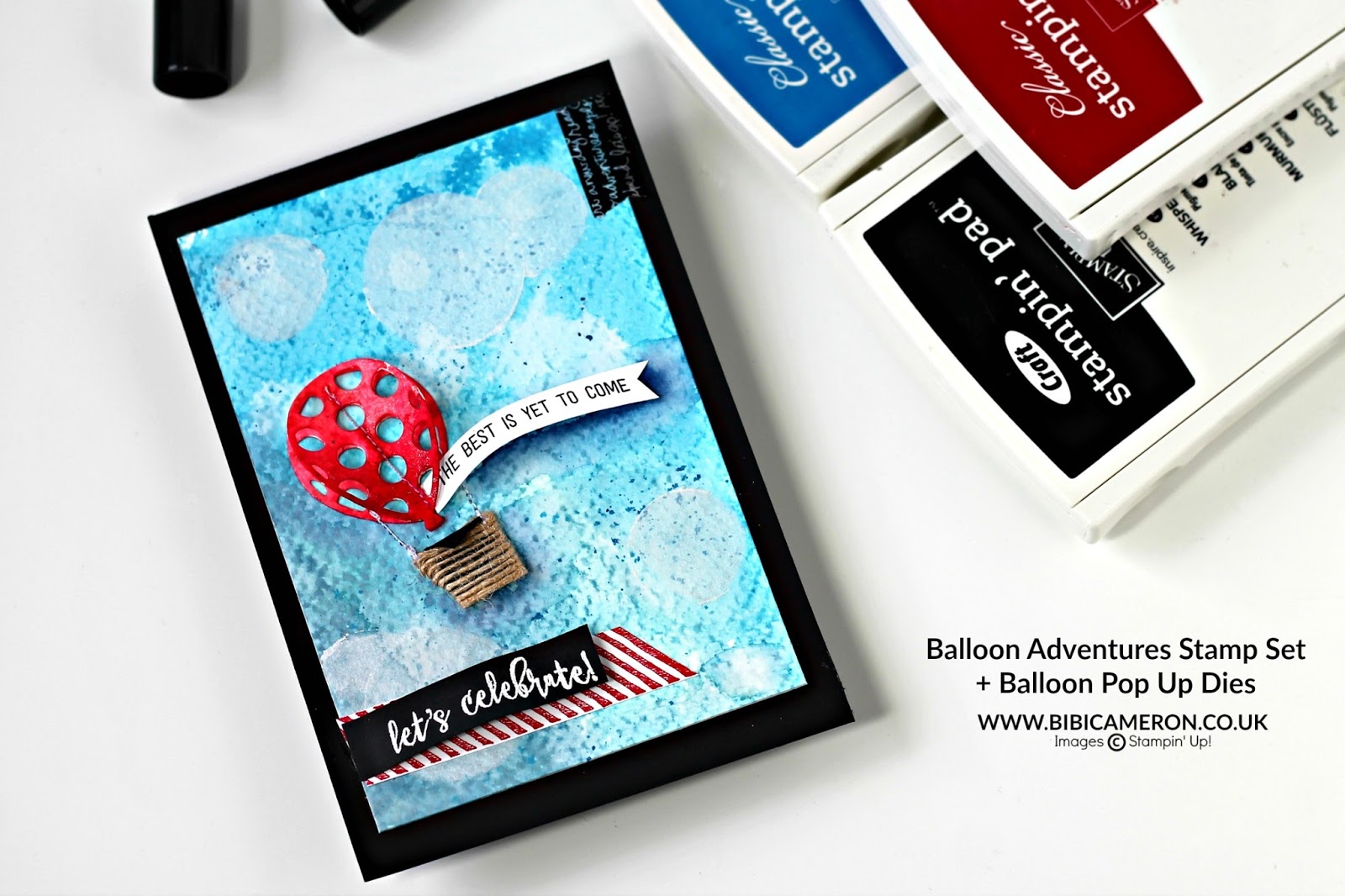 Hi there and welcome to my blog! a quick post to share well in advance another card idea today made with Balloon Adventures Stamp Set and Ballon Pop -Up Dies from Stampin' Up! products Available from January 4th -2017 in my Stampin' Up! SHOP HERE!
I water colour the background and applied a bokeh technique = I created circle windows on printing paper with circle dies in different sizes to make a masks , then I placed the mask on the blue splattered background and applied white craft ink with a sponge.
When everything was dried. I secured 2 balloon die cuts with some stitches using my sewing machine and I made a hot air ballon using burlap ribbon. Voila! I'm feeling like in primary school making a rusty craft project but I kind of like it. What do you think?
Ok, so if you haven't seen my previous post I want to let you know that I'll be sharing over 10 projects made with balloon Adventures Stamp Set and Balloon Pop – Up Thinlits dies by Stampin' Up! I had the honour of being chosen as display stamper for our last Stampin' Up! Convention and I had the chance to put my hands on this products since September so that gave me a bit of time to work in advance.
I really hope to be able to inspire you to create something with this awesome tools!
So make sure to pay me a visit and come back later, subscribe to my blog or to my youtube channel here and plan ahead in purchasing these tools unique in the paper craft market.
Click below to see the fist card I made with this tools and to enter a weekly creative challenge this week on Global Design Project
Thats all, I hope you enjoy the project today!
Thank you for visiting my blog t and do not forget that every order £25+ from my Independent Stampin' Up! Shop will also receive a free thank you gift from me Click here to find the code and customer perks!

The free gift should reach my customers around 15th each month.

Do not hesitate to leave a comment or contact me if you have any question at bibicameron@gmail.com
I would love to hear form you!