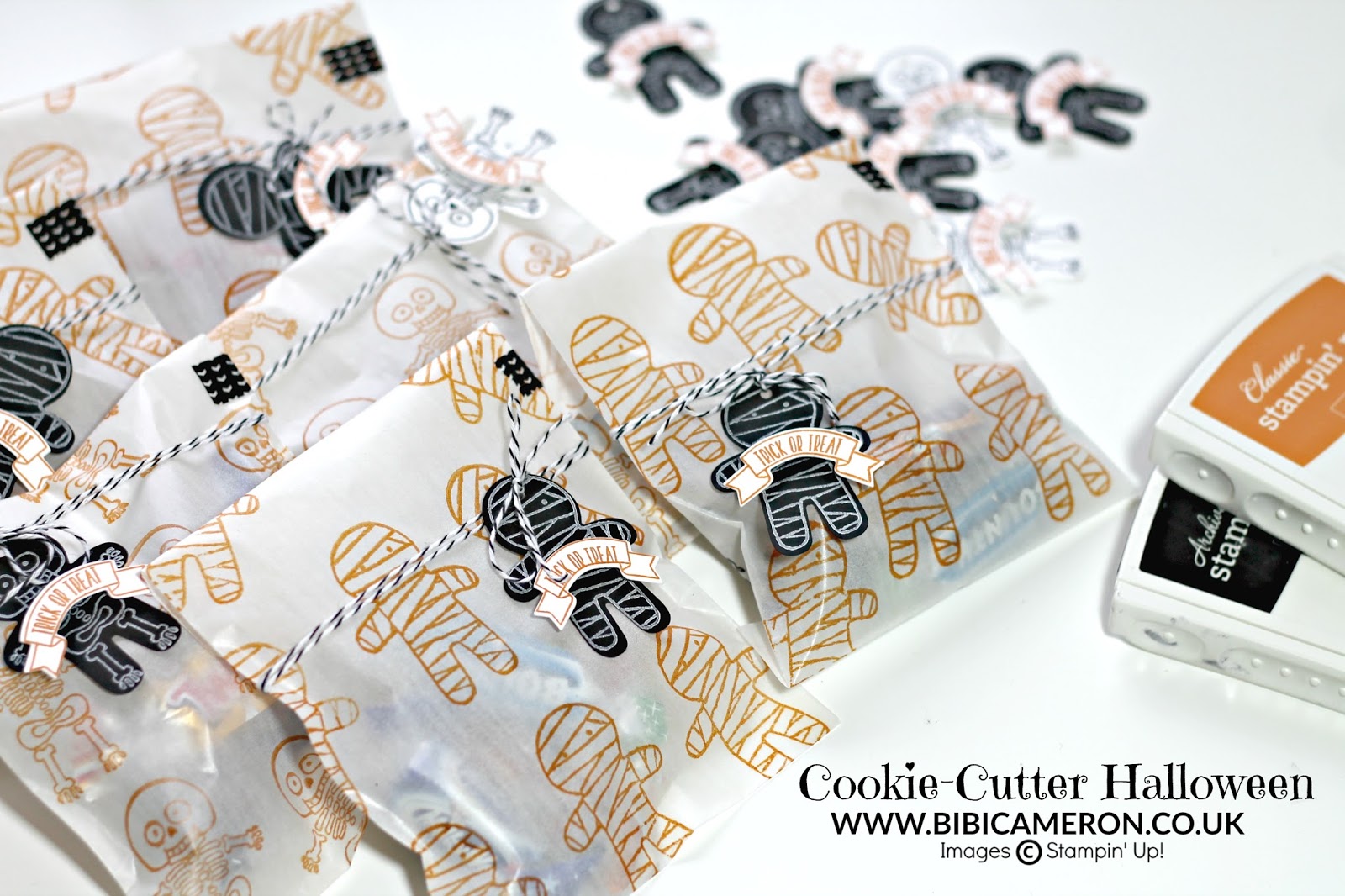 Happy Halloween everybody! I hope you are doing well. It has been a rainy Halloween here in Scotland. It is 5pm and it is dark already!Nooooo … bye bye summer sunshine until 9pm!
I couldn't resist to ink up Cookie – Cutter Stamp set y Stampin' Up! for first time to make some last minute treat bags. It is just incredible that I couldn't use it before but I have been super duper busy.
Next weekend is our Stampin' Up! convention in Telford and I have been chosen as display stamper so I'm doing my best to make projects made with some of the new products that will be realised that day. Exciting!
Soooo Halloween Night in this country is still ahead and here you have a last minute idea
Grab some glasinne bags and stamp them with your Stampin' Up! water based inks and Cookie- Cutter Halloween Stamp Set. Make some tags in time record using the stamp set and coordinating punch, make a wee banner with Sweet Home dies bundle, wrap around some twine, use a piece of washi tape to keep the bag closed and voila!
Tip: Once you have stamped the bags with Stampin' Up! inks. Allow the ink to dry putting each bag apart from each other to avoid ink bleeding.
To make the tags you can use Black Cardstock +Whisper White Craft ink or Whisper White Cardstock and stamp with Basic Black Ink.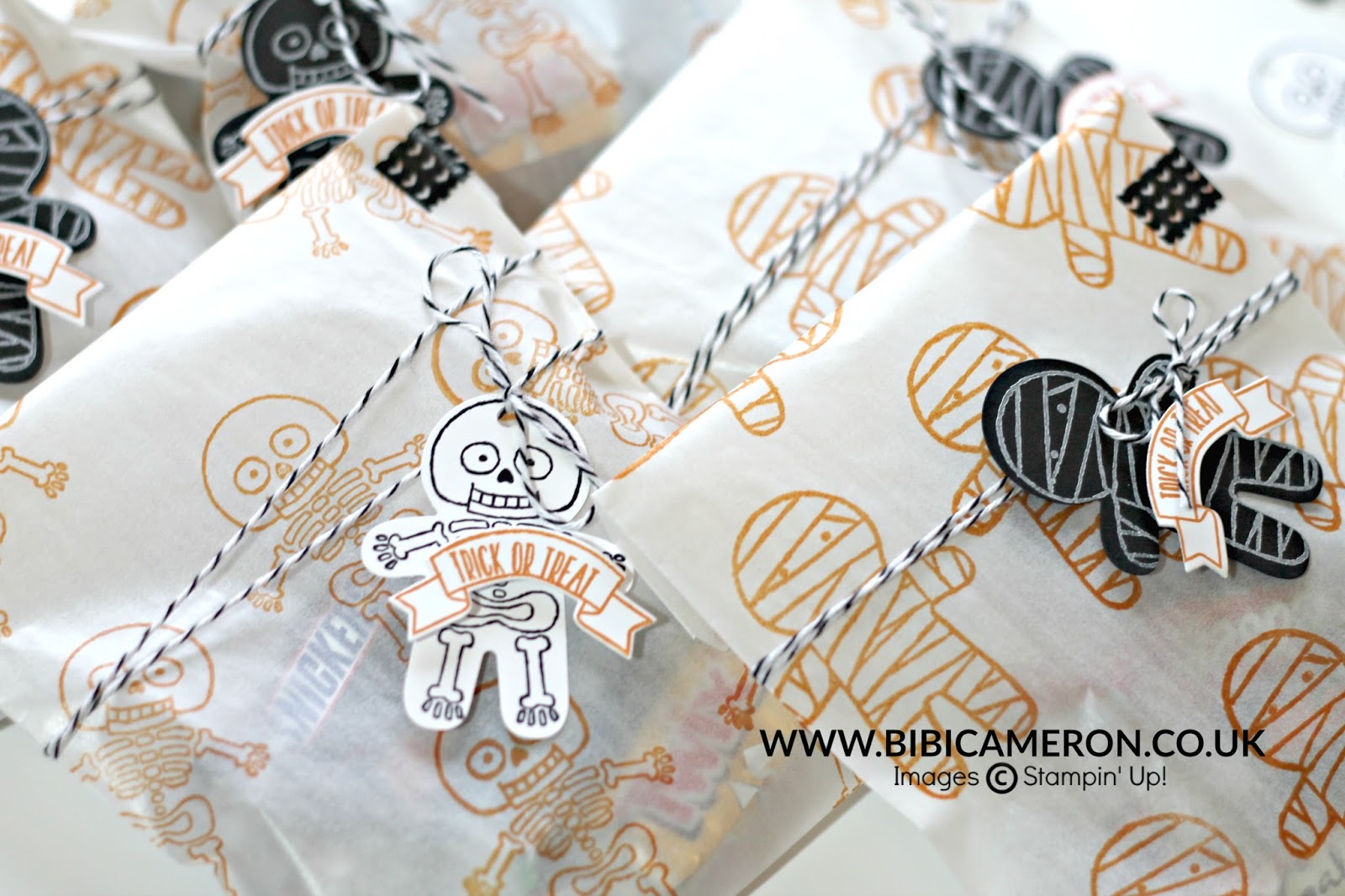 Cookie Cutter Halloween from Stampin' Up! is a sweet bundle, a treat for any paper craft lover. I love it and it will be hard to see it gone! So grab yours before it gets retired.
These tool are available to buy now in mySHOP HERE! They are amazing to add that special touch to halloween projects. Remember that the punch also coordinates with a xmas stamp set and I'll list these products at the bottom of this post so you can buy straight away! 🙂
Last but not less important. do not forget to stamp the Stampin' credit for on the back of the bag.
I used Basic Black ink and be carefulbeauce this ink a bit oily and the stamp will tent to slide on the Glassine Bag. So be firm and gentle whn stamping and avoid wobbling to get a crisp and nice images.
If you have a Misti. you can use your misty just to stamp the Stampin' Up watermark.
Thank you for visiting my blog today and do not forget that every order £25+ from my Independent Stampin' Up! Shop will also receive a free thank you gift from me Click here to find the code and customer perks!

The gift should be arriving around 15th each month but this month I'm late as I was away and load of work waiting for me. My customer free goodies are waiting for me to deliver them but I run out of cards and I don't want to send them without a card .. So please hold on tight. I'll send them ASAP!

Do not hesitate to leave a comment or contact me if you have any question at bibicameron@gmail.com
I would love to hear form you!
Buy Supplies in this post or any other Stampin' Up! product by clicking on the pictures below