Hello everyone, today on TGIF challenges we are celebrating Mother's Day with a themed challenge dedicated to the amazing women who gave us life. I'm in the UK where Mother's Day is celebrated in March but in my country Colombia (South America) we celebrate Mother's Day on the second Sunday of May as in North America, Canada and many other countries.
So I'm glad to participate in this challenge as it is about the time my mother is celebrating this special occasion!
For this challenge I use Nice Cuppa Stamp Set and coordinating dies from Stampin' Up! and Going Places Designer series Paper. This tools are getting retired so don't miss the opportunity to buy them HERE before is too late! Available until May 31st or until supplies last.
I have stamped on the cup using Stazon black ink ( this ink is permanent, and I haven't try to washed the cup yet as I just stamped it but I let you know how it goes later) at the moment is looking nice .
To stamp the sentiment and the string of the tea bag in the ceramic cup and on the interior of the card I used Balloon Celebration Stamp set. (find complete list of materials at the end of this post)
TGIF challenges is also celebrating a year of being live! And I want to invite you to participate this week challenge and make something nice for your mum.
Click on the picture below to Join this challenge or just to have a a look of what everyone has made!
I challenge you to go to your kitchen grab a curve piece of ceramic and stamp it with Stazon permanent ink. If something goes wrong, don't worry. Immediately apply Stazon cleaner on the image and remove the ink. Your ceramic piece will be ready to try again. If you don't have Stazon cleaner clean as soon as possible, before the inks settle.
How I stamped the sentiment on the curved, irregular surface of the cup?
I placed a hand towels on my desk and on top of it I placed the clear block with stamp facing up (to avoid the clear block sliding on the desk). I applied black Stazon ink on the stamp and I quickly placed the side of the cup facing down, near the the right side of the stamp. When it was in a good position I pressed it down and I started rolling the cup towards the left with gentile, firm pressure, avoiding wobbling. You can see while stamping if the stamp is in contact with the whole surface while rolling the cup. When I finish rolling the cup I had to wait for a few seconds and then I lifted quickly.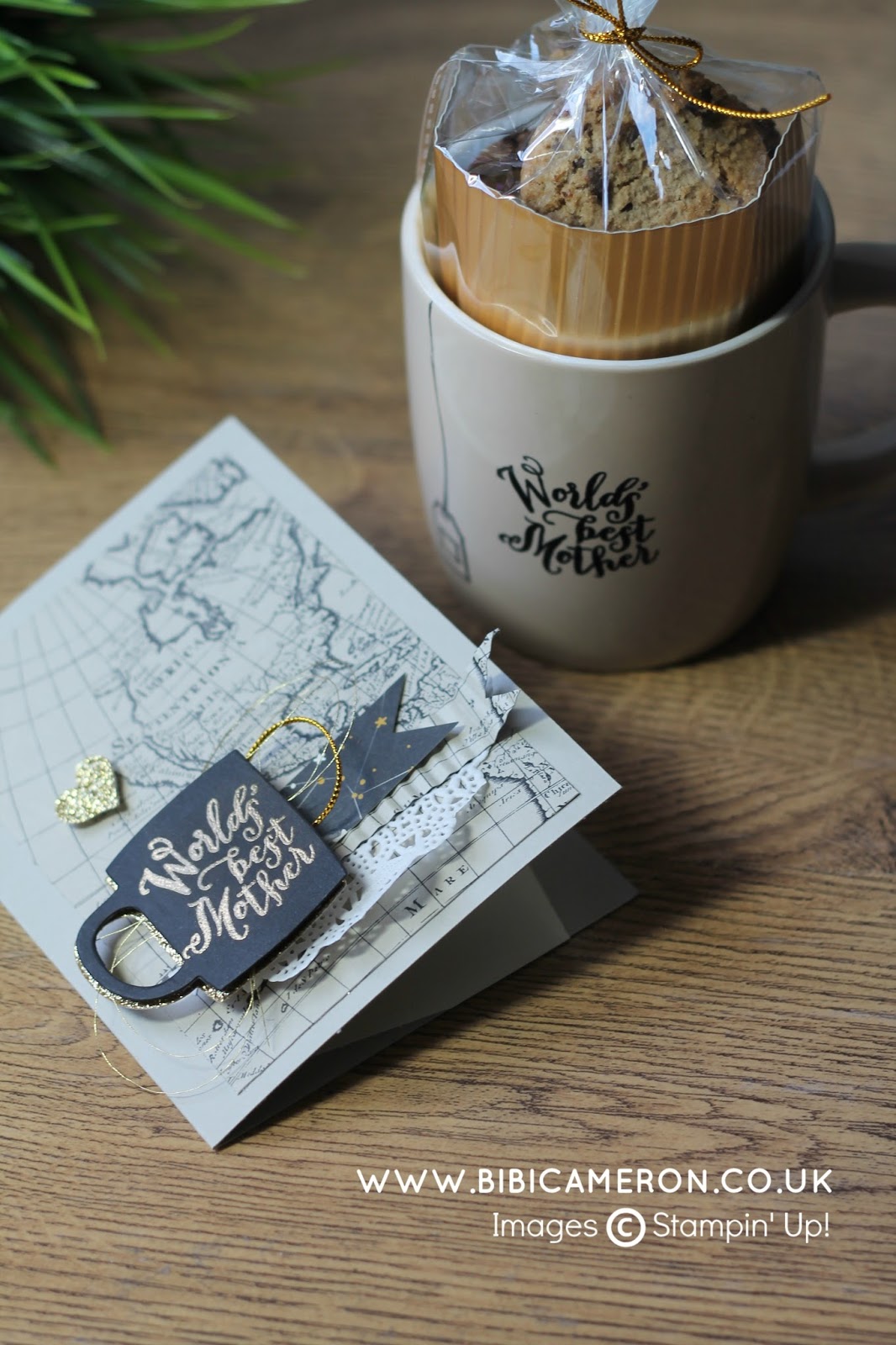 I really hope you enjoyed my project, if you would like to place an order for any of the products used or any other Stampin Up supplies, simplyclick here or any image or the links below to go direct to my online shop 24/7. And don't forget to use the hostess code (if your order is £20+ and less than £150) to receive a free thank you gift from me
Going Places Designer Series paper