Hi, I completely love "An open Heart" Stamp set from Stampin' Up! and it just arrive with my last order so I had to give it a try for the #8 Global Design Project challenge: CASE the designer Kylie Bertucci. Kylie is a very talented and adorable Australian SU Demo, founding member of our GDP team and some of her cards have an unique well defined retro style, minimalist and complex. She use a lot of geometrical shapes and beautiful color combos. So if you see this post before discovering Kylie's blog you defo should pay her a visit to travel to a different stamping universe.
In the Stampin Up family CASE or CASING means "Copy and Share Everything", it also means reproducing an exact piece of artwork but in GDP we can CASE the colour combo, or the sketch, or even use the same stamp set or the theme to make something new so we are always open to see how far your imagination goes by having a source of inspiration. Please join us and on the Global Design Project Challenge # 8 – click here to see instructions to participate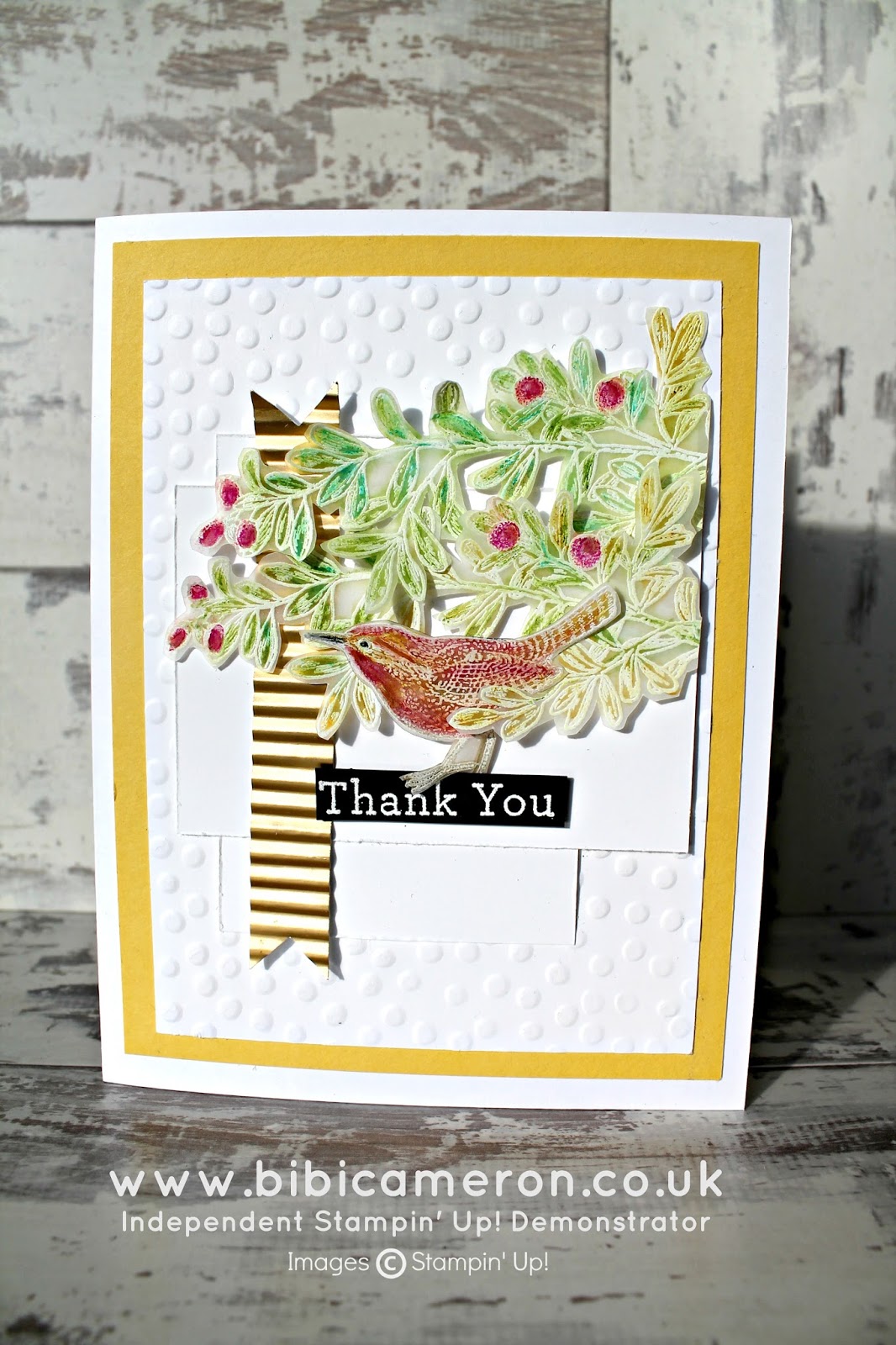 I CASE Kylie's sketch, the layering and the theme. I even use the idea of a small branch wrapping around the stamped sentiment but I added dimension and the little bird.
I apply my grannies old colouring technique on vellum but instead embossing the images by hand I used clear Versamark ink and I added white stamping powder to stamp the images and I heated it up. But before stamping I passed all over the vellum my "embossing buddy" to reduce the static on the paper. To add colour I used watercolour pencils on top of the embossed images and I passed a damp brush all over the images to blend the colours (this is easy and quick) I used an eraser to clean the colour from the white embossing powder and add definition to the image and I trimmed the images. For the background panel I used So Saffron and whisper white cardstock. Please find below supplies list to make this card.
Thanks for stopping by!
x Bibi
Order Stampin Up supplies to make this project
Built for Free Using: My Stampin Blog