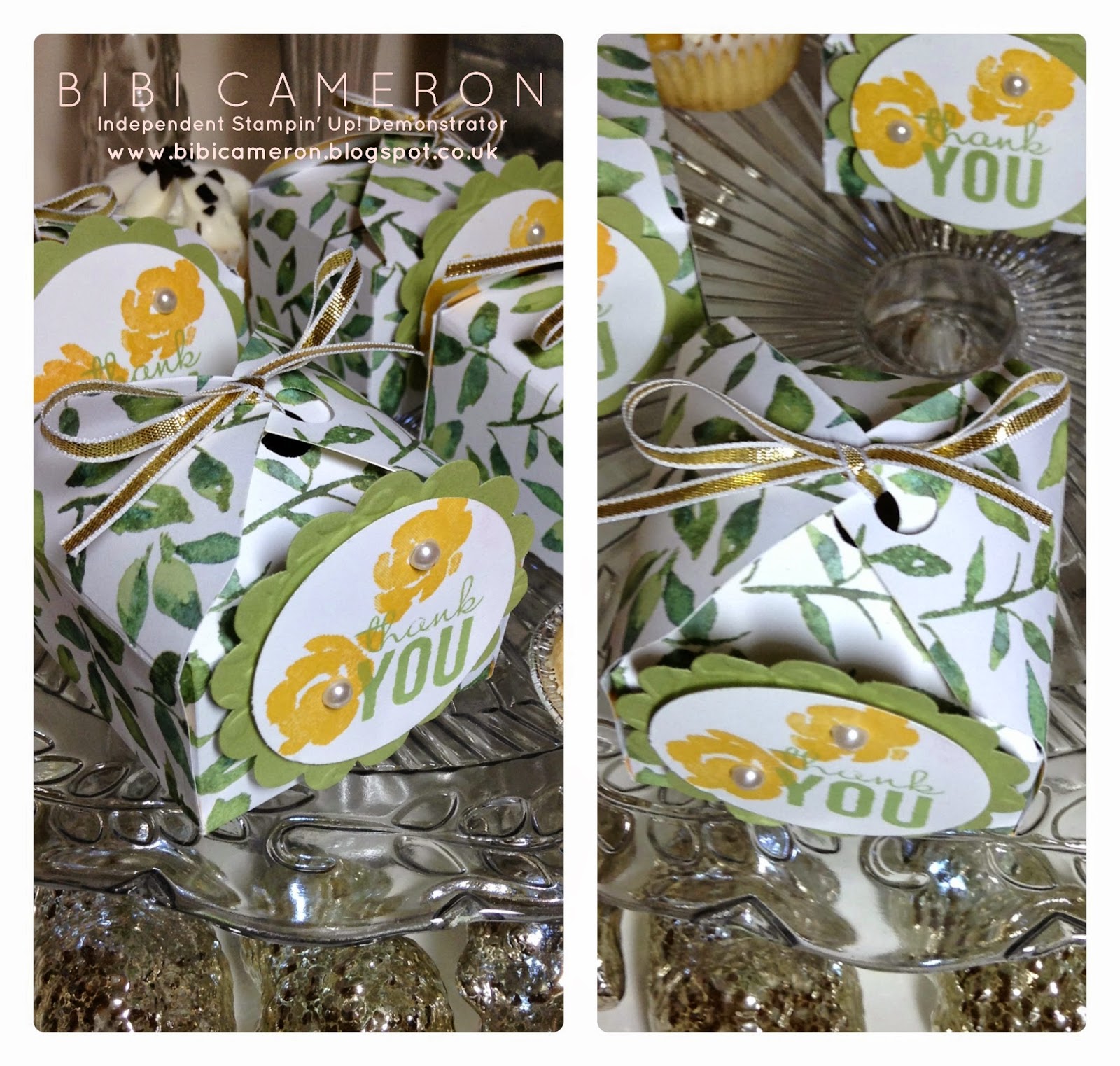 Hello, today's post is about mini boxes made using the envelope punch board.
 They are ideal to add a glamorous touch to any small gift for your guests at any party, great for wedding favours, first communion souvenirs and generally wonderful for packaging any small item.
Today I packed a mini tart inside them as a treat for the ladies in my craft group. We usually drink a cup of tea and eat some snacks during a break in our workshops so these little ones made our day.
The mini boxes in the picture measures width : 2″ -1/4 x Height 1″ 1/2 (not including flaps)
I made 4 mini boxes from one 12″ x 12″ sheet of paper and 48  from a pack of 12 sheets. 
While the paper used to make these boxes is very important,  the start of this project is the Envelope Punch Board ( find it in the supplies list at the bottom of this post)
The Envelope Pucnh Board is designed to make envelopes but it will allow you to make boxes in different sizes.
This tool is very easy to use and you will be amazed with the results in the small amount of time that it takes to  make a cute box. 
Make boxes with the envelope punch board
The look and feel of the boxes can change dramatically depending on the paper you choose.
These boxes will also look stunning made out of acetate  (printed, stamped, or clear) and if you put some silver or golden almonds inside and add a stylish tag, you will have the most precious and cutest wedding favor ever.
Click here to see other box idea fallowing the same instructions. It looks completely different!!
box making instruccions
You will need a perfectly square piece of paper.
to make sure boxes all you have to do is to divide the measurement of one of the sides of the paper into 3. (This will be your first punch and scoreline)
Multiply the result of the previous division by 2. ( This will be the second punch and scoreline).
Here we have some examples:
Paper measurement : 7.5″x 7.5″ 
  (7.5″/3 = 2.5") (2.5″x 2" = 5″ inches)  first punch and score at 2.5″ and second at:  5″ inches
Paper measurement :  9″ x 9″  score 3″  and 6″
(9″/3″ = 3″) ( 3″ x 2″ = 6″) first punch and score at 3″ and second at: 6″
Paper measurement : 12″x 12″  score 4″  and 8″
(12″/3″ = 4″) ( 4″ x 2″ = 8″)  first punch and score at 4″ and second at:  8″ .
Thats all for today.
I hope you like this post.
Happy crating
Bibi
Supplies