In May the whole American continent will celebrate Mother's day but being a mom is a 365 days matter. So this card is for all the precious awesome mums around the globe that works hard 24/24 to raise a family and it can be sent any day.
For today I used Mom Flowers Stamp Setby Simon Says Stamp and Nuvo Shimmer Powders.
I found the images and sentiments from Mom Flowers Stamp Set by Simon Says Stamp extremely eye-catching and depending on how you stamp flowers they will look a little bit different …That's awesome ! There are 2 florals in the set but that's all you need to make endless compositions.
You can stamp one flower to make a simple and clean composition, two flowers as I did here, many flowers to fully cover a background, or create small floral clusters as I did today.
This set offers clever design elements. The floral shapes are very versatile and the sentiments in different sizes and styles will adapt to different design needs.
Have a look…
Mom Flowers Stamp Set
So today I made a little bit of masking to stamp floral clusters at the top and bottom corner of the front panel of this card.
I used smooth Bristol paper, my favourite paper at the moment.
I used the two floral stamps in the set and Black Ink from Simon Says Stamp and the Tim Holtz stamping Platform
I added colours using the new Nuvo Shimmer Powders. I mixed the powders with water and I applied them with a Nuvo water brush.
I also used Nuvo Solar Flare Shimmer powder together with SSS Tiny Spaced Hearts Stencilto add those teeny tiny yellow hearts in the background. I simply placed the stencil on the paper and I sprayed water all over ( not a lot of water), then I put a bit of the powder in the palm of my hand and I blew it so it was evenly applied all over.
On a watercolour pallet, I mixed the powders with water and I applied them to the images as using any other water-based product. After applying colours and when everything was dry, I also splattered a concentrated mix of green powder with a bit of water.
I added black Nuvo drops to the flower pistils and to make the sentiment pop up a bit more I applied Nuvo Crystal Glaze.
Using a faber Castell fine tip pen I added tiny black dots over the flowers.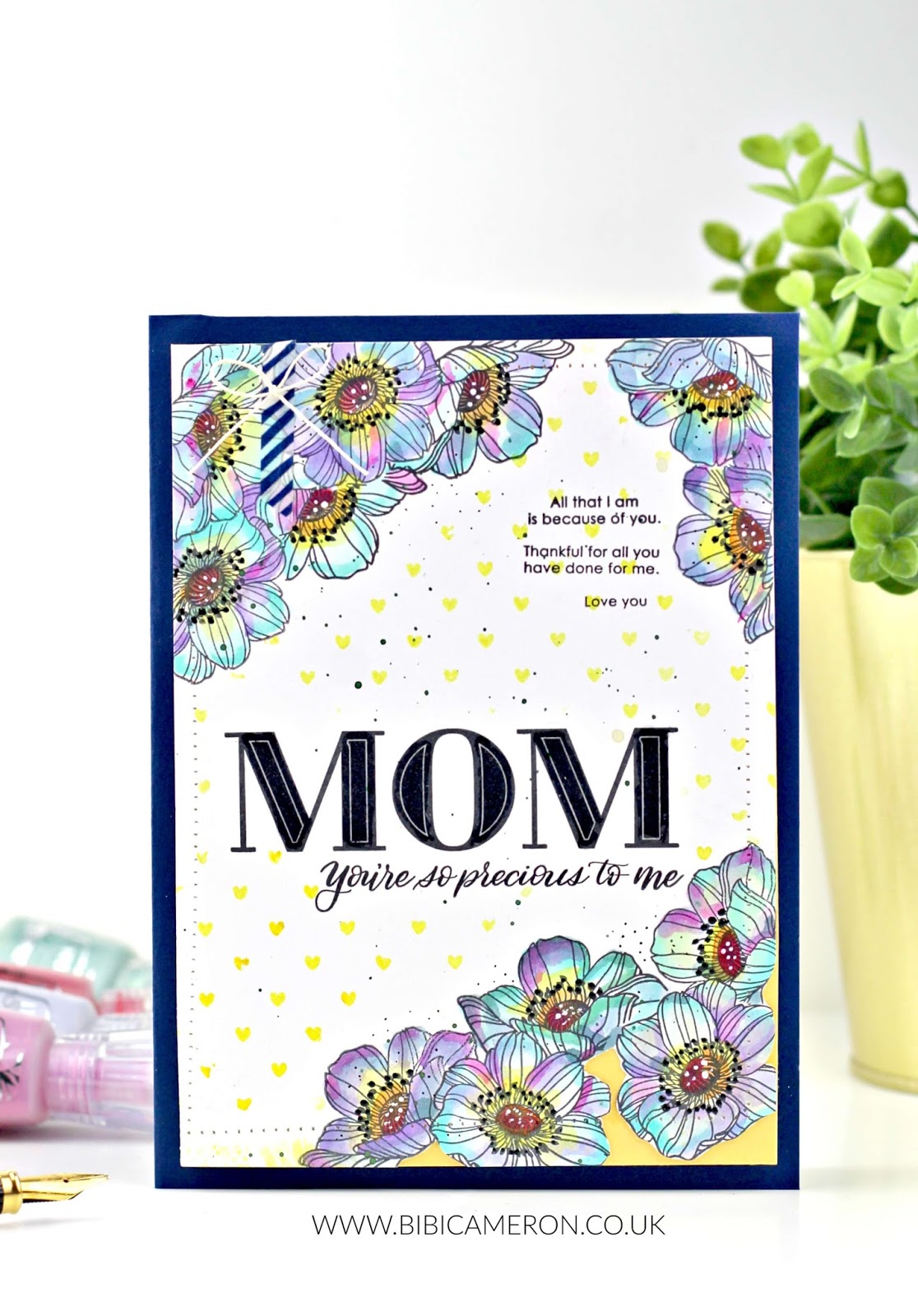 I hand cut the edge of the floral cluster at the bottom of the panel and I added a piece of contrasting cardstock colour behind.
Then I had the idea to run the panel through my sewing machine to create a pierced edge all around the front panel. It is not the first time I do this because I love the results.
I used an A4 sheet of navy blue cardstock to make the card base.
This card measure 5″ x 6-1/2″ Inches
That's all for today! Thanks for stopping by.
Do not forget to Subscribe to my blog here! or my Youtube Channel here to get my latest blog post or video directly in your inbox.
Hugs
x
Bibi
Supplies
Affiliate links apply, this means that I get a small commission when you buy from any of the links in my blog of Youtube Channel.