Hello everybody, it is Monday of Global Design Projectand this week we have a beautiful nature theme challenge for you to enjoy or to participate. Please scroll down to see what I have done using Wetlands Stamp set and Enjoy little things stamp set by Stampin' Up!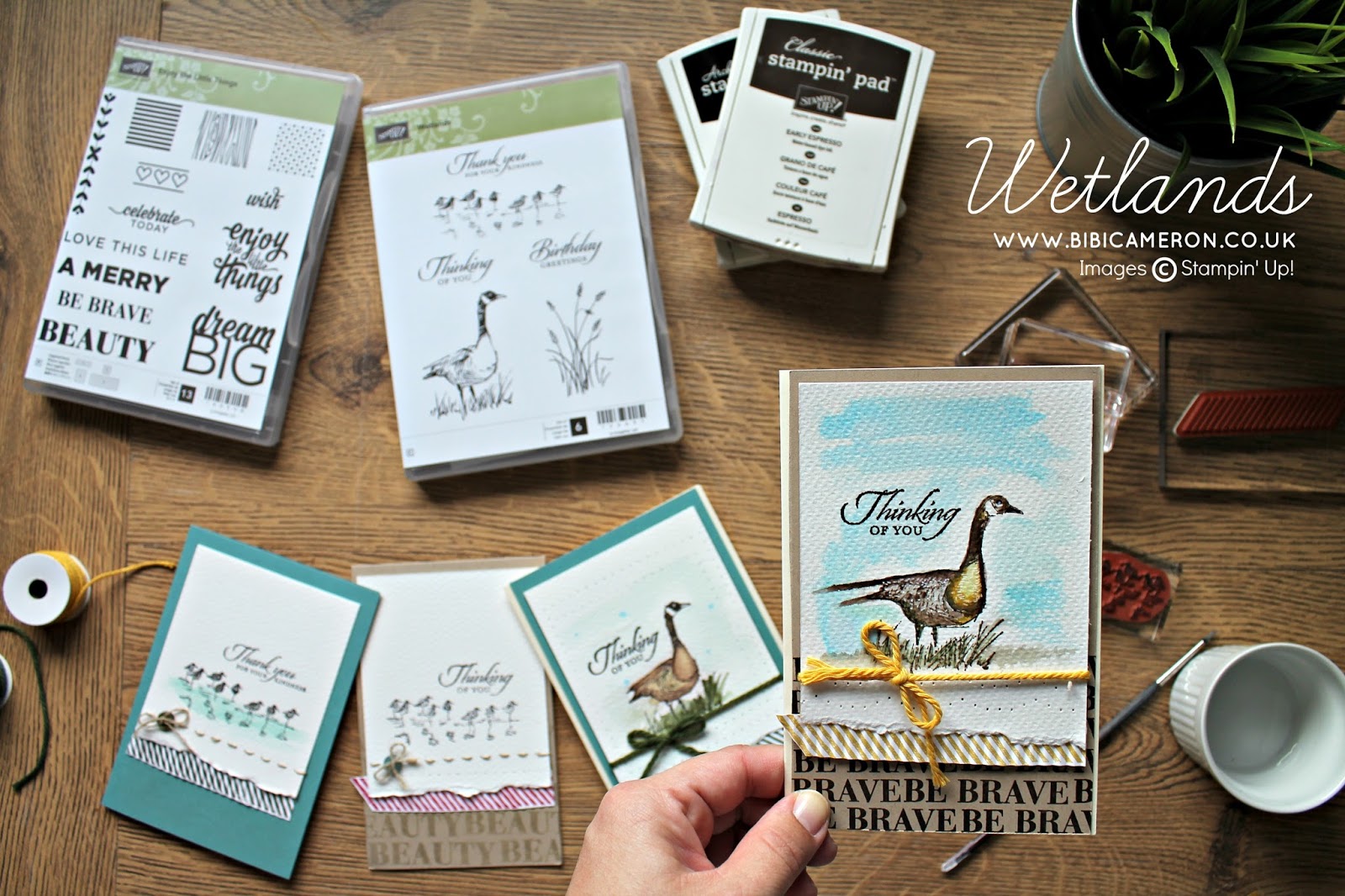 When I create an easy and quick design/sketch like this one I like to apply it with different cards but making discrete changes in colours, embellishments or perhaps using different stamps so that the cards looks different. I always said that small details can make huge differences in card making. All the cards today are pretty much the same in terms of design ans elements used.
.
Click here to join the challenge #31 on GDP or
have a look of what everyone else is making !
I have to admit that the cards made with the sandpipers birds are my favorites on today's post. They are simple and couldn't be easier to make and I also think they are cute! Who doesn't like this adorable little birds? I love the way they quickly run from waves, they do not only evoke nice times at the beach but also peace. I just love them!
Another feature of Wetlands stamp set is that the stamped images looks like a hand draw sketches. they are simply stunning. The sentiments are just a perfect match for the images so I think that it is not necessary to do much on a card after stamping the images in this set and my advice is leave the images alone! I know how hard this is but by adding some watercolor technique and a small embellishment you will be done.
I used my sewing machine with no thread and a Ball Point needle #90 to add decorative pierced borders to all my cards today and I sew by hand some stitches over the holes created by the machine on the watercolor paper and I tied a bow using Linen Thread by Stampin Up and a small button that came in a accessory pack in the in colors collection 2014 -2016 .
Then I decided to stamp a few more cards using the Goose Stamp, icon of team work. Have you ever read5 lessons from Gesse? it worth to read it as these animal teach us about leadership, team work, solidarity. These animals are fascinating and beautiful so the stamp is just perfect to make encouragement cards as the Geese have a nice story behind.
This stamp set is also special for me as I made my first blog post and video tutorial using it!! It is also unique. Have a look to my first blog post HERE! or WATCH WETLANDS MIRROR IMAGE TECHNIQUE VIDEO HERE!!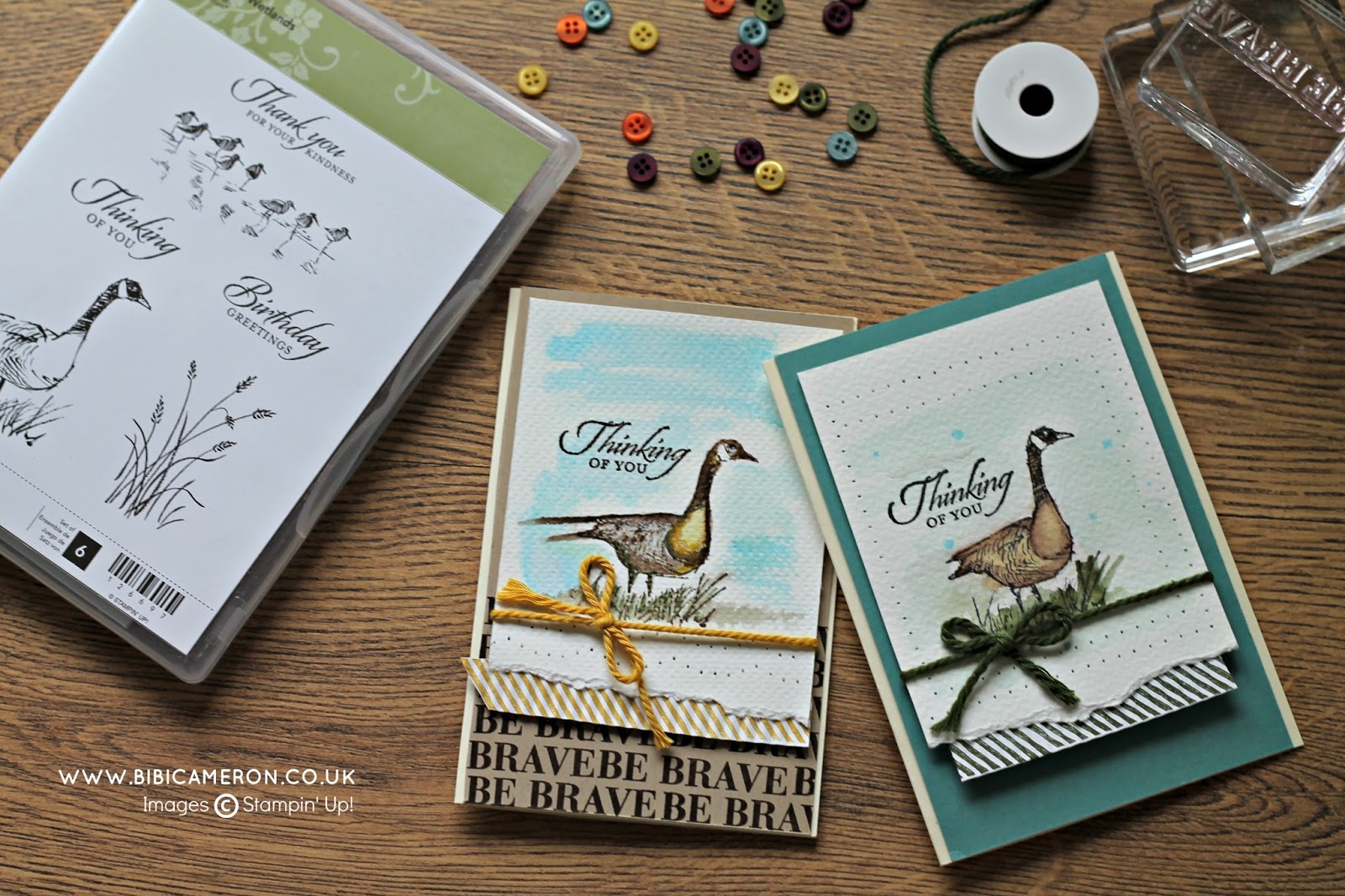 You can purchase any materials used in my blog HERE! Wetlands stamp set includes 6 individual stamps and you can get it wood mounted or clear (Clear | Cling is not the same that photopolymer stamps, it is like the one in the picture below and you need clear blocks to use them).
Supply list
Wetlands Stamp Set ( main images)
Enjoy the little things Stamp Set (to stamp backing panels with sentiments "Be brave" and Beauty)
Gorgeous Grunge stamp set ( only 1 stamp to stamp the banner underneath the mean image)
Old olive Stampin' marker ( to add colour to banner , grass, goose)
So saffron ink ( add light to the goose image)
Real read ink ( to stamp the banner on one of the sandpiper cards)
Linen thread (sewn by hand)
Sahara sand card stock
Lost lagoon card stock
Watercolor paper
Chocolate chip ink
Sewing machine to pierce the holes on the paper
A black normal pen ( to add a little bit of something to the goose eyes)
White ball pen ( to add a little bit of something to the goose eyes)
Buttons and cords in-colour collection 2014 – 2016 from SAB 2015
Love and passion ( FREE)
Thanks for stopping by and do not hesitate in leave a comment. I'll be happy to heard from you!
x Bibi